Our Staff
Meet the experienced and friendly staff who make Monument Family Eye Care a proud provider of vision care products and services in Midlothian.
Brandy Gordon, Office Manager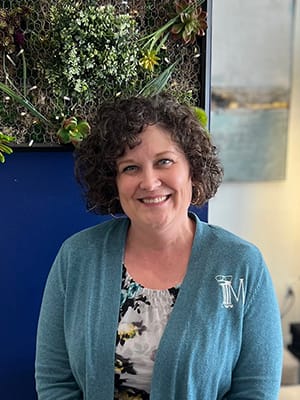 You will find Brandy's smiling, approachable self at the front and center of the practice either at check in or when calling our office. She has been in the eye care industry for over 20 years and is seasoned in all aspects of practice operations. Brandy's innate ability to communicate and relate to others suits her for practice manager. She is well versed in both vision and medical insurance and will assist in obtaining benefits and explaining coverage. Brandy has been a seasoned Optometric Technician as well, providing hands-on patient care, utilizing special instruments, electronic medical records, and instructing in the care and handling of contact lenses. When choosing eyewear, don't leave her out, she enjoys styling patients in the latest fashion and is happy to assist in your frame selection.
Originally from Amelia, Virginia, Brandy has resided in Midlothian for the past 27 years. When away from the office, Brandy is a dog lover as well as a family lover, as she enjoys spending time with her husband and 2 kids, 2 grandkids, and her main squeeze, Chewy (named from her love of Star Wars!). Brandy is also a proud grandmother to Lillian Jane and Tobias Aeryk.
---
Jonathan Collins, Optician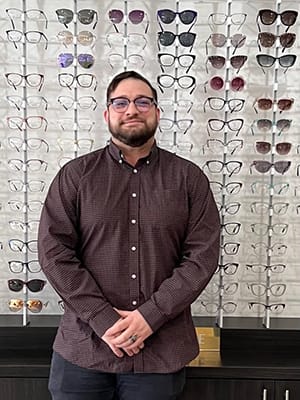 Jonathan Collins is a highly skilled optician from Woodbridge, VA. He is passionate about helping patients improve their vision and overall eye health. With several years of experience in the field, he has a deep understanding of the latest techniques and technology in eye care and is able to provide personalized, comprehensive care to each of his patients.
In his free time, Jonathan enjoys antiquing and playing music. He is dedicated to helping you achieve your best possible vision.
---
Jon Buck, Optician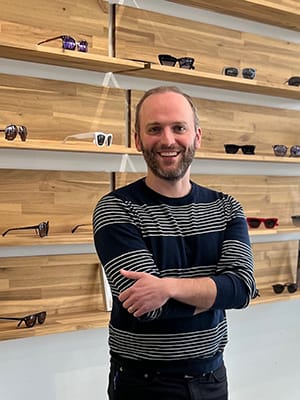 Meet Jonathan, a licensed optician with over 14 years of experience in the optical field. Born and raised in Richmond, VA, he is known as "Buck" or "Jon 2" to his colleagues. With a strong focus on customer service and a wealth of knowledge in the field, he is dedicated to helping you with all of your eye care needs, from selecting the perfect frames to ensuring the perfect fit of lenses. He is well-versed in the latest technology and advancements in the optical industry. In his free time, Jonathan is an avid chess player, enjoys trying different IPA beers, and spending time exploring the city of Richmond and hiking with his wife. He also has a passion for collecting and listening to vinyl records, reading, and spending time with his three furry companions, Flynn and Luna (border collies) and Naomi (mini golden doodle).
His favorite bands and musicians include Kendrick Lamar, Jason Isbell, Lupe Fiasco, John Mayer, and Bon Iver.